Which Glentress Mountain Biking Trail is right for me?
Glentress is a haven for mountain bikers, with trails to suit all skill levels, from beginners to seasoned pros. The trails are set in the heart of the beautiful Tweed Valley, surrounded by stunning scenery and forests, making it an unforgettable experience for anyone who visits.
At Tweed Valley Bike Hire, we understand that having the right equipment is essential to get the most out of your experience on the trails. That's why we provide an extensive range of high-quality bikes, including e-bikes, hardtails, and full suspension bikes, to suit every rider's needs. Whether you're looking for a leisurely family ride or an adrenaline-fueled adventure, we have the perfect bike for you.
Our knowledgeable and friendly staff will help you select the ideal bike and equipment for your desired trail. If you're new to mountain biking, we'll provide guidance and support to ensure you're comfortable and confident on the trails. We have trail maps and recommendations available, so you can choose the trail that suits your skill level and preferences.
Glentress has several signposted loops, each with its unique features and levels of difficulty. For those new to mountain biking, the Green and Blue routes are perfect, with smooth, flowing singletrack and small jumps. For a more challenging ride, try the Red route; featuring the famous Spooky Wood, with technical descents, jump lines and drops. For those looking for an all-day epic, the Black route is a step up in difficult and length, with challenging root sections, long backcountry descents and steep rocky chutes, perfect for experienced riders.
So, if you're planning a trip to Glentress and want to make the most of the fantastic mountain biking trails, be sure to rent your bike from Tweed Valley Bike Hire. Our extensive range of high-quality bikes, expert advice, and excellent service will make your experience unforgettable.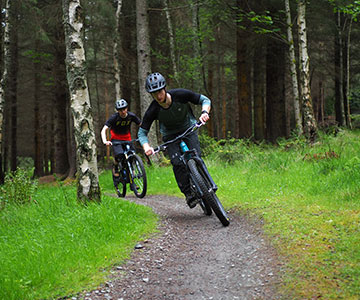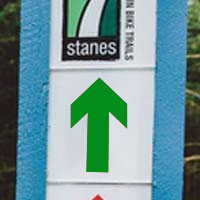 THE GREEN
This beginner-friendly trail features easy singletrack with smooth climbs and descents. It's perfect for families and those looking for a relaxed ride through the forest, the gentle gradients and mellow bends are a perfect introduction to mountain biking. The route departs directly from the Alpine Bikes Glentress shop and winds its way through some of the forest park's oldest and tallest trees.
Difficulty: Green (Easy)
% Singletrack: 30%
Length: 2miles/ 3.5km
Time: Allow 1hr to 1hr30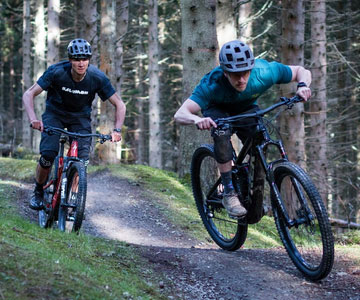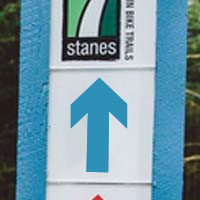 THE BLUE
A hidden gem that's big fun for all - from novices taking the next step up from green routes, to experienced riders. There are options along the way for earlier finishes or you can go for the full whack. This route is split into a lower loop and an upper loop – each 5 miles / 8km long. Start at the Alpine Bikes Glentress Shop and climb as far as the Buzzards Nest. Then either descend on the bottom loop or continue on, to include the upper loop too. So many highlights, including Berm Baby Berm, Blue Velvet, Good Game. If you've got a mixed-ability party, this is a great choice for the whole group.
Difficulty: Blue (Moderate)
% Singletrack: 80%
Length: 10miles/16km
Time: Allow 2 to 4hrs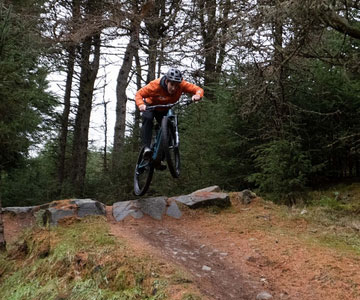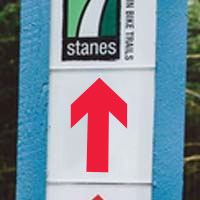 THE RED
The Glentress Classic; offering some of the best trail-centre riding in the country, with flowy berms, jumps and technical climbs, there's never a dull moment. This loop climbs almost to the top of the trail centre and includes the legendary 'Spooky Wood' - a stunning 1.5km singletrack descent with sweeping corners and rocky drops.
Difficulty: Red (Advanced)
% Singletrack: 75%
Length: 11¼ miles/18km
Time: Allow 1½ to 3hr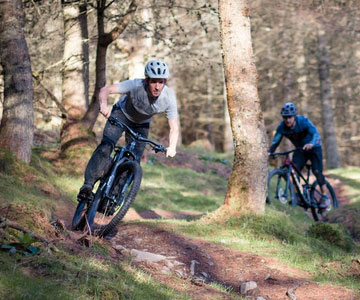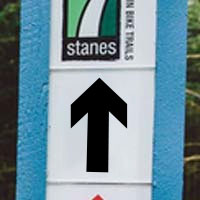 THE BLACK
For the hardcore riders and those wanting an epic all-day adventure, the Glentress Black is packed full of challenges and thrills. Not to be undertaken lightly; this long and winding route takes the rider far from the trailhead, venturing into the furthest corners of the forest park. There you will find demanding backcountry descents and lung-busting climbs, with incredible views of the Tweed Valley and beyond. Recommended only for expert riders and those with experience in the outdoors. Due to its remote nature it is imperative that those riding the Black are entirely self-sufficient; carry water, food, a first-aid kit, a map, spare clothing, tools and a puncture repair kit, it's a long walk back to the car!
Difficulty: Black (Expert)
% Singletrack: 80%
Length: 18 miles/29km
Time: Allow 3 to 5hr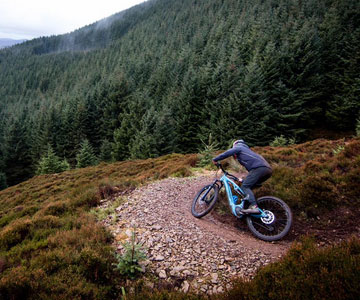 THE OFF-PISTE TRAILS
Have you completed the waymarked loops and looking to find what else Glentress has to offer? Are the Red and Black trails too easy and you need a new challenge? These are the hand-cut and raw trails that you won't find on the maps; some are steep, slippy and technical, others rough and rocky, each has a unique character and set of challenges. None of these trails have official signs or difficulty ratings, no escape routes and no trail patrol. If you would like to know more before you venture over to the dark side of Glentess, talk to one of our knowledgeable staff members or book yourself a guide with local company
Tweed Valley Guides
.
Difficulty: N/A (Expert+)
% Singletrack: 100%
Length: Various
Time: N/A