Mountain Biking Events at Glentress
Glentress is not only one of the best mountain biking destinations in Scotland, but it's also home to several exciting mountain biking events throughout the year. From endurance races to enduro competitions, these events offer an opportunity to experience some of the most challenging and exhilarating mountain biking in the UK. In this guide, we'll take a closer look at some of the most popular mountain biking events that take place at Glentress.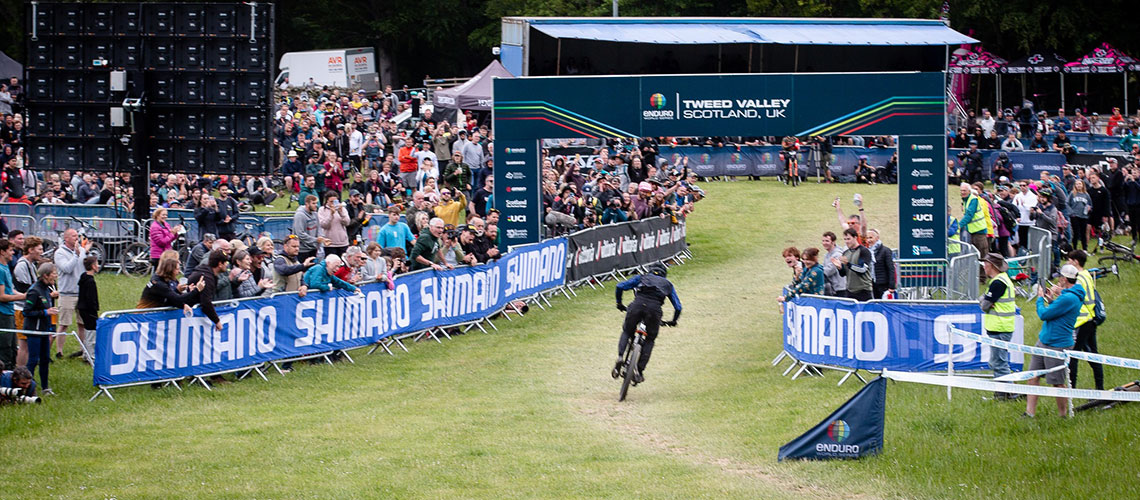 Tweedlove
Tweedlove is one of the largest cycling festivals in the UK and is held annually in the Tweed Valley. A series of races and events are held in the valley throughout the year with the biggest being the Tweedlove Bike Festival. Tweedlove events span a huge range of disciplines, from enduro racing to gravel, and are suited to all age groups, so if you've ever wanted to try your hand at racing, or just want to spectate, it's the event to attend!
Find out more
Glentress 7
Part of the Tweedlove family of events, Glentress Seven is Scotland's most popular summer MTB endurance event – a great day's riding and racing for everyone, with an emphasis on great trails and a friendly, fun atmosphere. It's regarded by many as the premier summer endurance race and course in the UK. The 11km (approx.) course features some nice climbs, fantastic singletrack, great descents and a whole lot of fun – you can go as hard, or easy, as you like. Ride solo or in teams of two or three, the most laps in seven hours wins. It's a fun course – some people even say there seems to be more downhill than up.
Not running for 2023
Enjoyro
Another Tweedlove event, the Glentress Enjoyro is specifically aimed at first-time or younger racers. It's a great way to understand how the stages, transitions and timing equipment works, and generally get a feel of what a race feels and looks like on the day. Seasoned riders are also welcome though, and it's perfect for those who haven't raced in a while and want to find their feet again. A super fun day out slaying the trails!
Find out more
UCI Mountain Bike World Championships
In 2023 Scotland will host the first-ever UCI Cycling World Championships, an event bringing together the world's greatest cyclists to compete across 13 UCI Cycling World Championships in the ultimate tests of talent, tenacity and toughness. Glentress has been chosen as the venue for the Cross-country (XCO & XCC) and Marathon events. The trails here are a crazy rush to ride and the same to spectate, so soak in every second of the action with us at Glentress.
Find out more
Whether you're a seasoned pro or a beginner, the mountain biking events at Glentress offer a fantastic opportunity to experience some of the best riding in the UK. By attending or participating in these events, you can push your limits, connect with other riders, and discover why Glentress is considered one of the top mountain biking destinations in Scotland.